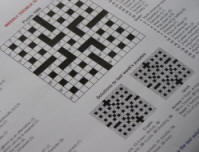 Weekly Double Crossword
15x15 Cryptic and Quick Puzzles. Graphic and Text solutions provided. Our cryptic compilers' puzzles like these appear in the top British daily newspapers, including The Times, The Daily Telegraph, The Financial Times, The Guardian and others.
Key Benefits
Consistent level of difficulty
Meticulously checked
High quality graphics
Pricing
We price according to circulation and to the length of contract, e.g.
| Description | Price |
| --- | --- |
| quarterly contract | from £19 per week |
| four-weekly | from £24 per week |
| one-off trial | £please call |
---